ULTRA-linear ultra low noise 6 channels PREAMP  ZETA ZERO
model "1176"
This  state of the art audio+video pre-amplifier  which  has 2 independent multi format  audio+video channels  for   multi channel home  systems. 
It is perfect  for  any combination of your two multi audio-video signal sources i.e.:  SACD, Blue ray, DVD, CD, TV, Stream player, satellite TV receiver  etc.. So You may connect in to this preamp  the  signal from any  your two sources.
Extremely easy  to use. User  friendly design- only  simple 4 buttons, one volume knob+ remote control  and NO complicated  digital sub-menu at all !  You may start to listen your music with fantastic audio quality or watch a favourite film in one second!
Each of these two channels has 3 video inputs (via component)+6 inputs of extremely low noise audio for L, R, back L, back R sub woofer, central speakers- for any home cinema 5.1 and stereo installation.
Build on the best available world class discrete components and amplifiers (for example Linear audio, Thach OPA etc.  usually present only in professional and measurement or medical staff). What is very important  there is NO any digital conversion  in audio circuit! So we have got the highest possible dynamic and perfect clear famous "analog sound". All electronics  based exclusively on hi-end analogue technologies, concepts and ultra low noise components.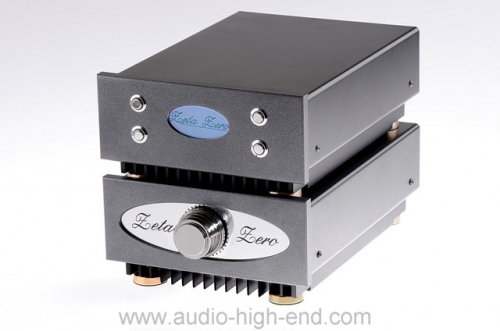 So You may connect to This Pre-amplifier  any two multichannel audio+video sources (each may has up to 6 audio outputs+ video via component or composite)  for example  Blue Ray, TV sat, DVD, CD, SACD etc.......


The 1176 preamp has ability to decode  2 (stereo)  or 6 (home cinema)  input channels   from any source  to:  6 or  4 or  2  outputs  ( your amplifiers and as many loudspeakers).   So it decodes   from  6,(4),(2)  to     6,(4),(2)

All  functions and loudness is additionally controlled by  a hand remote control unit.

All internal architecture  is purely and ONLY Analogue- No AD or DA converters in audio channels !


If you have   6 channels  source but   4 amps +4 main loudspeakers system   (or  simple stereo- 2amps+2 main loudspeakers)  the pre amp's 1176 internal audio matrix properly decodes  all 6 multichannel's  input signals  from your source (including sub-woofer and central speaker signal )to  your  loudspeakers and in effect

you do not loose sub-bass and central channel signals  .



All XLR inputs and outputs  are electricaly isolated , symmetrized by only real transformers, and without any active electronics added to it.  other saying- All process of  symmetrization(balansing) is going only on passive high class audio transformers).
If you have only  stereo CD or SA-CD   but you  want to use all 4 speakers,  preamp 1176 can create and send   your source stereo signal to  all your four main speakers (L, R  BL, BR) .  So you are  inside the sound stage not at the front of it . This mode is  in effect much better on film music or  instrumental music  than only 2 channel.





The electrical and mechanical design is based on TWO  INDEPENDENT  real solid steel boxes: one -only for all digital drivers and  digital controls, display etc. and power supply, and the second  heavy real steel box ONLY for AUDIO and VIDEO electronics.  So it has got  incredible and great isolation of any hum and AC power noises  into audio  tracks. So in effect it has fantastic dynamic close to 140 dB.




All  commutation of audio  signals is made ONLY on vacuum switches and absolutely NO  any active semiconductor switches are present in a audio chain, what  gives perfect quality and no generation of any distortions or noises (noises and distortions are typical for semiconductor audio switches, does not matter how good switches are). So in effect the pre-amplifier has incredible low level of noise and distortions. Is extremely "quiet". As example:  The system build on 5000 Watts  RMS amplifiers  connected to totally "opened" (the  loudness  knob turned  for  maximum)   preamp 1176  is totally quiet-   there is NO

audible

noise or hum  from loudspeakers!



 Very useful "Ultra-dynamic"  function  restores more natural dynamic  of the  recording- usually   heavy compressed by young sound engineers in their studios and this function  for example makes nicely quieter  some  speakers voice in voice track of cinema films. This function also gently restores natural dynamic of instruments (for  example in  too much compressed  film  music etc. ).





The volume (loudness) control  is made ONLY in analogue domain  on real analogue multichannel motorized precise potentiometer. (no  VCA or AD/DA converters at all in audio tracks!) .





Video (via component) matrix  with active ultra high frequency  buffers-line  75 Ohm outputs amplifiers.
 Two multichannel inputs  audio+ video
Input A:     2 X symmetric XLR+  4 X RCA  +  3 X RCA video (i.e.  for component)
Input B:                                   6 X RCA  +  3 X RCA video (i.e.  for component)
Two multichannel outputs  audio+ video.  Including:
6 X  symmetric XLR (transformer balanced)
     6 X unsymmetrical RCA
   3 X video (component)
distortions about 0,0007% on  RCA  outputs
dynamic about 130 dB  and more ! (A)
frequency response RCA   0- 2 000.000 Hz (0-2MHz) !
maximum output signal   up to  +-18 Volt (..+23dBu)
frequency response  on XLR   about.10- 40.000 Hz
professional connectors i.e.:  Schurter, Samtec, Tara Labs, Neutrik...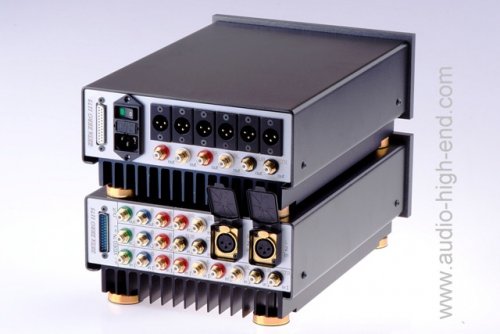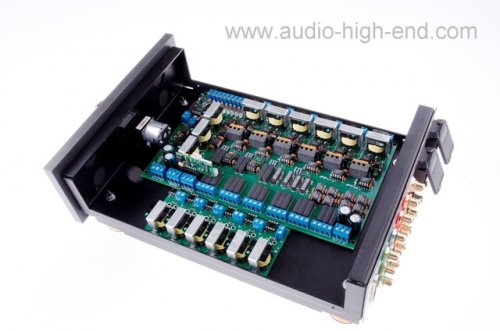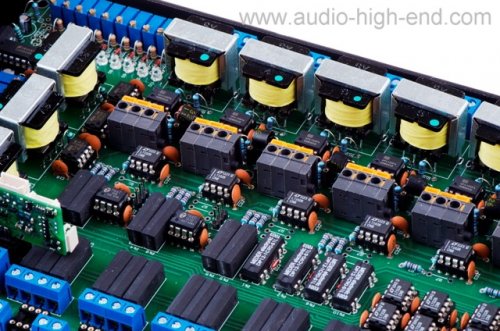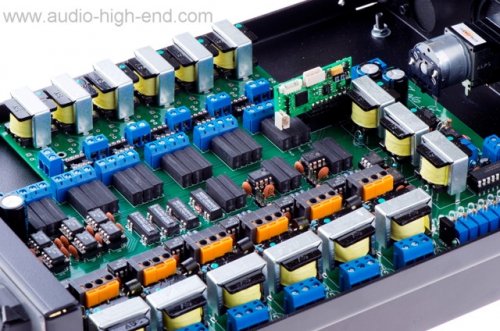 for price  call  or write  on  trstudio@trstudio.com