Our scientific and research background.
Many years ago, we started a long-term program of engineering and research for ZETA ZERO needs. These speakers were developed in the course of about ten years' research to create an unparalleled experience, different from any other conventional audio system. This has been achieved through the implementation of innovative solutions, processes and materials like GRAPHENE and NANOTUBES as well very strong chemicals- sometimes almost unknown and very difficult and expensive to obtain- or inaccessible to apply them in mass-production. We have even gone so far as to use such experimental technologies and even military materials originally developed for space applications(e.g. nano - technology- see our research). For one ste of ZETA ZERO Orbital360 we use and spoend up to 2000 squere cm of graphene.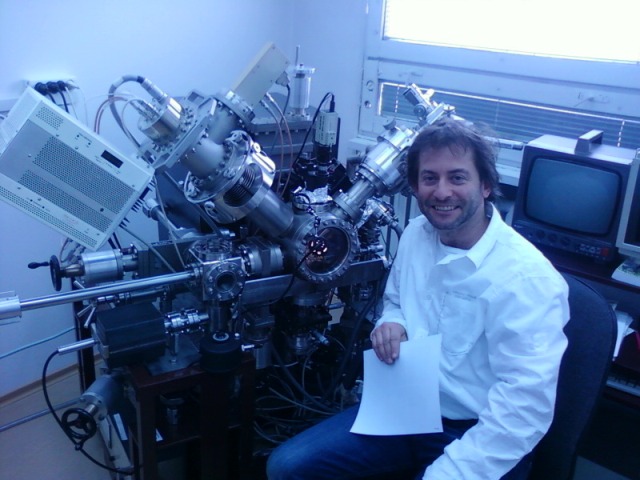 We have used, among other things,special, ultra-high strength materials used in space technology, characterized by a unique reinforcement of thermal and mechanical strength, some of which were also created especially to the requirements needed by ZETA ZERO.
Thousands of tests, thousands of hours, measurements, as well as the creation of the necessary innovative materials for ZETA ZERO speakers, requires utilizing the very latest technology and measuring methods of the 21st century. Hence our strong commitment to advanced research such as: molecular measurements, ion implementation processes, mass spectrometry technology, particle accelerators, and Ultra-high-vacuum technology etc.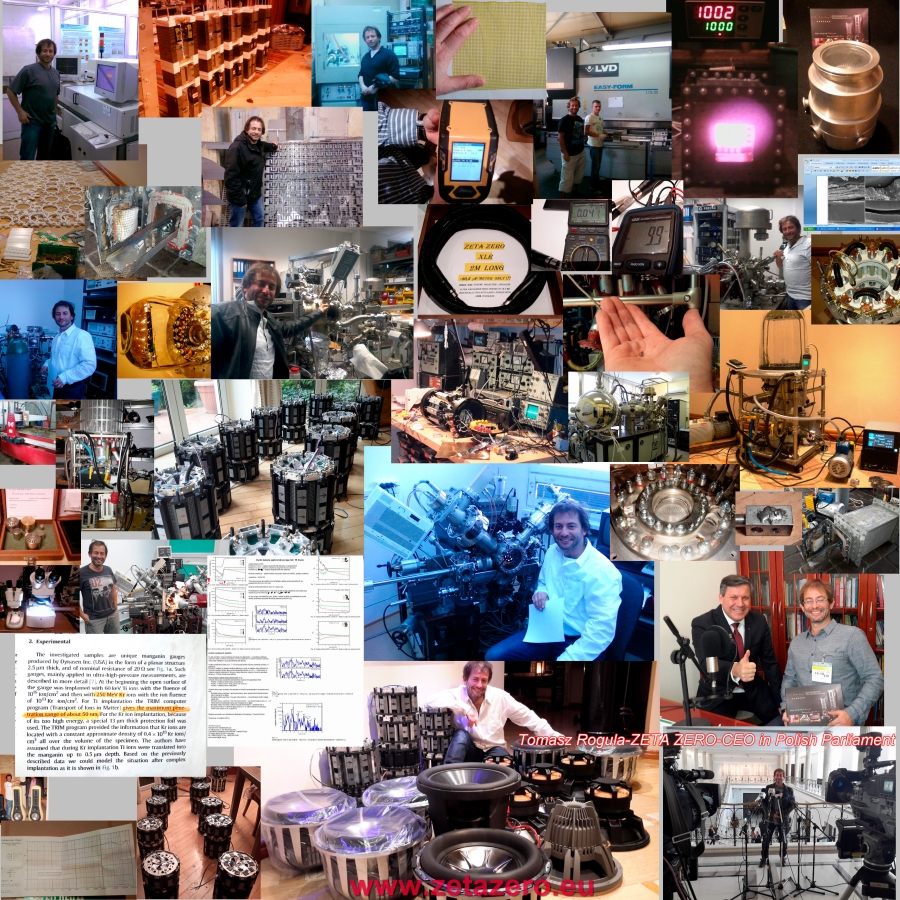 During works we contact with many well known scientists and prestigious research institutes including the most important technology institutes such as the Institute for Nuclear Research Poland , Florida Advanced Study Institute, the Institute of Materials Science Engineering PW, the Department of Metallurgy of AGH, the Institute of Precision Mechanics, the Institute of Radio Engineering, the Institute of Electronics PK, and the Space and Science Technology Institute We even cooperate with test laboratories in ironworks and space programs. The photo gallery below shows fragments of our hard work-hundreds of tests, experiments, and complex measurements. It has been a long a difficult way, so far, that has resulted in discovery and success, and, there is still a lot ahead of us to make ZETA ZERO the supreme audio system for you!
We use some of the most modern scientific processes such as: atomic implementation, nano-technologies, high vacuum processes, as well as some of our own "Top-secret" proprietary ideas unavailable anywhere else. We have additionally redesigned and re-engineered the ribbon technology, adding our own fresh ideas. Some of the technological innovations our laboratory has developed:
- New methods of atomic strengthening membranes (here more details)

- Development of new complex extremely durable materials ( here more details)
- Self-active cooling systems in our powerful ribbons
- Computerized protection systems for mids and highs, as well as bass drivers extending the maximum power of a speaker up to two to three times. For example- with our circuit the 300Watt RMS bass speaker found in our Picolla model is capable of being driven for short terms by a power amp of 1000 Watt RMS!
TR STUDIOS-our polygon for sound





TR STUDIOS





TR STUDIOS





TR STUDIOS





TR STUDIOS





Designer of Zeta Zero during measurements on mass spectometers of our powerfull uknown on The Earth materials





ultra high vacuum mass spectometer SIMS - this we use to do our crazy tests








Dr J. Latuch and I next to the "Speening melting machine"- vacuum reactor to form amorphous material





we test our materials with Roentgen rays





in this x-ray diffractometer we conduct an indepth control of the structure of Zeta Zero membranes





UHV -Ultra High VAccume





ulitra precision CNC used for ZETA ZERO components (resolution of 0,0000002m)





tired but happy





good measurements- Leybold Turbomolecular service room for my vacume 90.000RPM pomp





our HIGH VACCUM CHAMBER for physic process of syntesis matrails needed for ZETA ZERO





the only privately owned Bruel@Kjaer rotating table





during experiments with metal alloys in vaccum at Warsaw Polytechnic





ionization in our vacuum chamber







our best reference Bruel&Kjaer (B&K) microphones with frequency measurements up to 100 kHz!!





a small part of our collection of the world's legendary Bruel&Kjaer measuring microphones





part of our testing lab (of course with the legendary Bruel&Kjaer measuring equipment)





results of one of our remarkable achievements; we have created special membrane material through ion implementation of selected elements into another element of the new type of ribbon membrane. In effect we've increased the strength of our mebranes by 500% compared to the classical Al. Currently, the application to the Patent Office





my nice set





a unique collection of our ZETA ZERO Bruel&Kjaer preamplfiers





By night......





by day





Our new laboratory staff- turbomolecular vaccum pomp- this small unit costs over 14.000 euro !























our ribbon tweeter withstands over 340 Watt RMS thanks to the special membrane materials!!!





huge, unique silicon crystal used for the military - in Zeta Zero it is used to produce forms for our ribbon membranes








wanadium molibden matrix





Dr Jerzy Latuch the best Polish amorphous metals specialist during our experiment with the vacuum "Melting Spinning Machine"











NANOME-X





1000 degrees C with sound-induced sygnal





X-ray





vacuum - DO NOT open!








1002 degrees C in vacuum chamber








electric vaccum scruws in measurement staff for ZETA ZERO




















perfect characteristics





successful casting for suspension














essentail to our research work stereoscopic microscopes





changing combinations of elements in the membrane leads to changes of frequency characteristics








our first steel smelting seen through the speculum








"fun" with Titanium requires unusual conditions to conduct the experiment. After 7-hour work we've got a 40-layer "titanium sandwich".








the power of chemistry!














fantastic flat characteristic of our ribbon tweeters from 500 Hz up to 50 kHz !!!











our membrane composite under the electron microscope











necessary in our membrane research weighing of thetitan with the precision up to...0,001 gramme!








fellow students of Warsaw Polytechnic during our research





calibration of the system





our very sensitive and very high precision gausometer able to measuer also up to 2 Tesla





calibration of our measurement system and examination of the characteristics





during the experiment - we are observing rapid temperature increase in vacuum chamber; we are spraying titan in 1600 degrees C





UHV ultra high vaccume





sensational results of our research!

















measurement settings of 30kV (30.000V) and 70 uA








it's not a mirror! hahaha








our always reliable tectronix oscilloscope





ultra high vaccum measurement system of INFICON + mass measurement up to 0,001gr resolution





spectrum analysis of elements in the membrane of ZETA ZERO





NANOME-X'a chamber - during our measurements.











dr R. Diduszko - thanks tothe goodwill of people like that we can go forward with our research and development of ZETA ZERO











CAUTION! radiation!











24 carat gold plated matrix





part of electronics for internal "flight recorder"





we work on high preasure





a set of ZETA ZERO Venus Picolla generates OVER 130 decibels SPL peak !





our vaccume chamber





vaccum ports needed for mesurament process with ZETA ZERO





This is our testing studio - it is good to test ZETA ZERO in such demanding conditions!





also our staff





essential electronic "tones" for tests with music and musicians





during audio tests to our disposition we have a whole range of equipment......





our outboard racks





our dream place for testing of music




TR STUDIOS-our polygon for sound

TR STUDIOS

TR STUDIOS

TR STUDIOS

TR STUDIOS

Designer of Zeta Zero during measurements on mass spectometers of our powerfull uknown on The Earth materials

ultra high vacuum mass spectometer SIMS - this we use to do our crazy tests

Dr J. Latuch and I next to the "Speening melting machine"- vacuum reactor to form amorphous material

we test our materials with Roentgen rays

in this x-ray diffractometer we conduct an indepth control of the structure of Zeta Zero membranes

UHV -Ultra High VAccume

ulitra precision CNC used for ZETA ZERO components (resolution of 0,0000002m)

tired but happy

good measurements- Leybold Turbomolecular service room for my vacume 90.000RPM pomp

our HIGH VACCUM CHAMBER for physic process of syntesis matrails needed for ZETA ZERO

the only privately owned Bruel@Kjaer rotating table

during experiments with metal alloys in vaccum at Warsaw Polytechnic

ionization in our vacuum chamber



our best reference Bruel&Kjaer (B&K) microphones with frequency measurements up to 100 kHz!!

a small part of our collection of the world's legendary Bruel&Kjaer measuring microphones

part of our testing lab (of course with the legendary Bruel&Kjaer measuring equipment)

results of one of our remarkable achievements; we have created special membrane material through ion implementation of selected elements into another element of the new type of ribbon membrane. In effect we've increased the strength of our mebranes by 500% compared to the classical Al. Currently, the application to the Patent Office

my nice set

a unique collection of our ZETA ZERO Bruel&Kjaer preamplfiers

By night......

by day

Our new laboratory staff- turbomolecular vaccum pomp- this small unit costs over 14.000 euro !

our ribbon tweeter withstands over 340 Watt RMS thanks to the special membrane materials!!!

huge, unique silicon crystal used for the military - in Zeta Zero it is used to produce forms for our ribbon membranes

wanadium molibden matrix

Dr Jerzy Latuch the best Polish amorphous metals specialist during our experiment with the vacuum "Melting Spinning Machine"

NANOME-X

1000 degrees C with sound-induced sygnal

X-ray

vacuum - DO NOT open!

1002 degrees C in vacuum chamber

electric vaccum scruws in measurement staff for ZETA ZERO

perfect characteristics

successful casting for suspension

essentail to our research work stereoscopic microscopes

changing combinations of elements in the membrane leads to changes of frequency characteristics

our first steel smelting seen through the speculum

"fun" with Titanium requires unusual conditions to conduct the experiment. After 7-hour work we've got a 40-layer "titanium sandwich".

the power of chemistry!

fantastic flat characteristic of our ribbon tweeters from 500 Hz up to 50 kHz !!!

our membrane composite under the electron microscope

necessary in our membrane research weighing of thetitan with the precision up to...0,001 gramme!

fellow students of Warsaw Polytechnic during our research

calibration of the system

our very sensitive and very high precision gausometer able to measuer also up to 2 Tesla

calibration of our measurement system and examination of the characteristics

during the experiment - we are observing rapid temperature increase in vacuum chamber; we are spraying titan in 1600 degrees C

UHV ultra high vaccume

sensational results of our research!

measurement settings of 30kV (30.000V) and 70 uA

it's not a mirror! hahaha

our always reliable tectronix oscilloscope

ultra high vaccum measurement system of INFICON + mass measurement up to 0,001gr resolution

spectrum analysis of elements in the membrane of ZETA ZERO

NANOME-X'a chamber - during our measurements.

dr R. Diduszko - thanks tothe goodwill of people like that we can go forward with our research and development of ZETA ZERO

CAUTION! radiation!

24 carat gold plated matrix

part of electronics for internal "flight recorder"

we work on high preasure

a set of ZETA ZERO Venus Picolla generates OVER 130 decibels SPL peak !

our vaccume chamber

vaccum ports needed for mesurament process with ZETA ZERO

This is our testing studio - it is good to test ZETA ZERO in such demanding conditions!

also our staff

essential electronic "tones" for tests with music and musicians

during audio tests to our disposition we have a whole range of equipment......

our outboard racks

our dream place for testing of music